Stratford Repair Cafe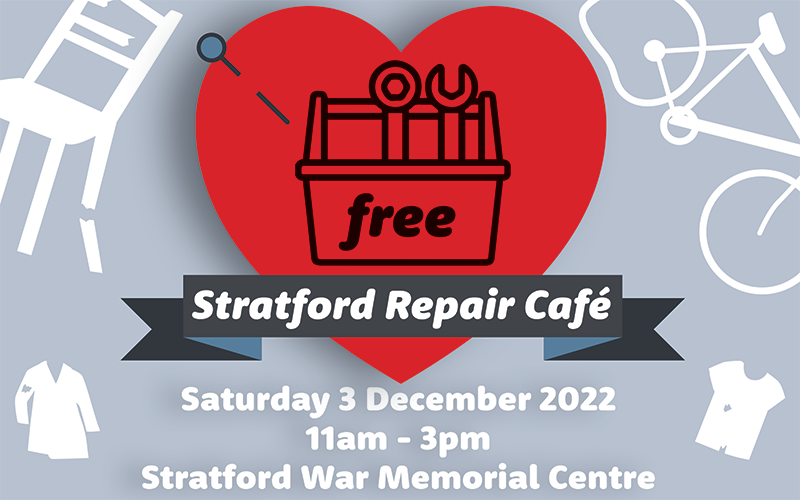 Stratford Repair Café opens on 3 December!
Got a broken item that needs some TLC? We're opening the region's first ever free pop-up Repair Café from 11am – 3pm, Saturday 3 December, at the Stratford War Memorial Centre.
If you've got a broken item, don't throw it out and buy a new one. Reduce the amount of waste going into landfill and bring your item in for repair!
Book in your repair
Booking in a repair will give our team of volunteer repairers the chance to make sure they have the right tools and materials on the day. We can also confirm that we're able to repair your item, as some items might not be able to be fixed by our team. We'll repair up to two items per person.
To book in your free repair, email wasteminimisation@stratford.govt.nz or call 06 765 6099. Tell us any details you have about the item, what's broken, and the materials it's made of. If you're emailing and you have a camera, please include some photos of the item.
While it's best if you book in your repair, we will accept walk-in repairs on the day. You're also welcome to visit without bringing in a repair if you're interested to see what the Repair Café is all about.
What you need to know before you bring your item in
We'll repair up to two of your items. When you have one item repaired, you'll need to move to the back of the line before your other item's looked at.
Our skilled volunteers will do the absolute best they can with every job, but we'll ask you to sign a waiver that acknowledges it's not the repairer's fault if things don't go to plan.
Don't leave it until the last minute. While we're open until 3pm, please make sure you leave enough time to wait in line and have your repair done. Don't worry, we'll have food available for purchase while you wait.
A registered electrician will sign off on electrical repairs.
The level of guarantee for any repairs is up to your repairer. You can ask your repairer on the day, or contact us if you need more information about guarantees before the Repair Café begins.
To have your item repaired, you need to be a resident of Stratford district.
Read our repair guidelines for more information.
Simple repairs are free but there may be charges
If it's a simple repair job that will take around 30 minutes or less, our volunteers will fix it for free on the day. If the job looks more complicated, the repairer might give you a quote and timeframe for the repair. Any money collected for a quoted job will go to the repairer.
If special parts or materials are needed, the repairer will let you know how much they cost and you can decide if you want to go ahead with the repair. The price will be at-cost and won't include any mark-ups.
We have repairers for these types of items:
Furniture
Metal and wood (but we won't be able to do welding repairs)
Electronics
Small motors
Toys
Battery-operated clocks (parts replaced will be charged at-cost)
Clothes and material
Glass and plastics
Skateboards
Bikes
We've also got some great general hobbyists and handy people who can do a variety of different types of repairs. If you're not sure if we can fix your item, please get in touch and we'll find out.
A shout out to our skilled volunteers!
There wouldn't be a Repair Café without our talented volunteer repairers. The following tradespeople, hobbyists and craftspeople have spent years honing their skills and we're thankful they're gifting their time and skills to help their community!
Ray Wales - professional electronics and mechatronics engineer who works at Ambilogue
Phillippa Rosan - skilled sewing enthusiast
Tina and Colin Cowie - technology teachers at Stratford High School
Matthieu Moncel - hobbyist and all-round handy person
Malcolm Izzard - fitter and metal work
Lee Cloke – registered electrician at PB Electrical
Jenny Greer – clothing and leather work
Anthony Davidson - Skateboard artisan and fiberglass repairs (surfboards)
Peter McNamara - bike repairer