Walkways
Stratford is gateway to iconic Mt Taranaki, and offers a range of outdoor activities for those with a sense of fun and adventure, and for others who enjoy a little peace, quiet and seclusion. A network of stunning walking tracks and pathways provides visitors with a link between these attractions, and a unique perspective of the dramatic Taranaki landscape. These trails offer you the chance to escape the hustle and bustle of urban life and discover some of the region's many reserves, parks, areas of historical interest and natural beauty.
Stratford Heritage Walkway
Stratford's Heritage Walkway is a unique pathway showcasing many of Stratford's unique features. This popular stroll takes you through parks and gardens and follows the pristine crystal clear waters of the Patea River. Points of interest include the Stratford Bell Tower, Malone Memorial Gates, and Kings Theatre. This walkway is classed as easy.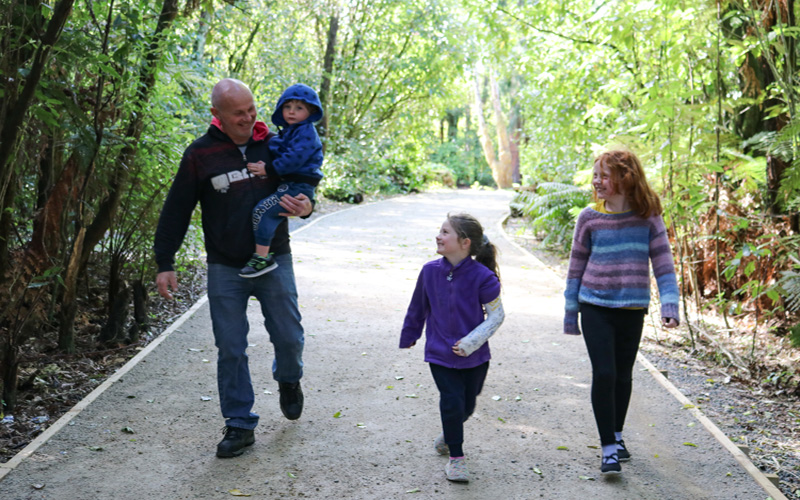 Carrington Walkway
The Carrington Walkway meanders through Stratford's urban bush and provides impressive views of Mt Taranaki. The walk begins at the historic Malone Gates and provides a choice of routes, with various track options available. Parts of the track follow farmland boundaries which gives views of Stratford's lush countryside pastures.
This walk suits people of medium fitness and is a favourite of children who enjoy the bush experience with all the interesting little nooks and crannies.
Cardiff Centennial Walkway
The Cardiff Centennial Walkway follows the Waingongoro River, approximately 6km from Stratford. The walkway takes you through farmland as well as natural bush, providing access to points of local historical significance. A picnic area is also available for those wishing to make a day of it.
York Road Loop Track
Explore the remnants of the old Egmont Branch railway quarry complex while walking through native forest. This track is maintained by the Department of Conservation. View more information here.
Otunahe Scenic Reserve
The Otunahe Scenic Reserve (approx. 70 hectares) is a private QE11-convenanted reserve that is within the much larger predator-controlled area of 13,000 hectares cared for by the East Taranaki Environment Trust (ETET). The reserve at Purangi is a wonderful example of mature native forest and the area has become recognised as a national stronghold for Western North Island Brown kiwi with an estimated 4000 kiwi in residence as at 2017. The area has a rich biodiversity and is also home to other native species including fernbird, bellbird, tui, kereru, New Zealand Robin, New Zealand falcon, and whitehead.
Cost: A donation of $10 per person, under 5 years old Free. All donations help us to continue our work to provide a predator controlled environment for Kiwi to thrive. The project has an overarching goal of 1,000 pair of kiwi by 2020. Guided walks for groups are available and must be pre-booked. Please direct credit our bank account 15-3947-0463618-00; or drop it in to our office on 53 Rata Street, Inglewood.
It is advisable to take footwear and clothing suitable for walking in the bush.
For more information or to download a copy of our Self-guided walk brochure visit: www.purangikiwi.co.nz or call into the Purangi kiwi project centre office: 53 Rata street, Inglewood. Email: info@purangikiwi.co.nz Phone: 06 756 8925
Grade: Moderate, Time : 2 ½ - 3 hours
Hidden Valley Walkway
The Hidden Valley Walkway offers a leisurely stroll through native bush alongside a bubbling stream bed.
A well-kept secret, the route follows boardwalks over the mostly flat terrain through lovely native bush.
Listen for the calls of the resident birds who are prolific in the area - pack a picnic lunch and enjoy sitting amongst the redwoods where you might be joined by a cheeky Robin.
At night the walkway is transformed into a magical wonderland of a glow worm grotto.
It is advisable to take footwear and clothing suitable for walking in the bush.
Cost: A donation of $10 per person, under 5 years old Free. All donations help us to continue our work to provide a predator controlled environment for Kiwi to thrive. Please direct credit our bank account 15-3947-0463618-00; or drop it in to our office on 53 Rata Street, Inglewood.
For more information or to download a copy of our Self-guided walk brochure visit: www.purangikiwi.co.nz or call into the Purangi kiwi project centre office: 53 Rata street, Inglewood. Email: info@purangikiwi.co.nz Phone: 06 756 8925
Grade: Easy, Time : ½ hour