Community members to be recognised with Citizen Awards
Stratford District Council is pleased to announce 8 Stratford District community members will be presented with a Citizens Award in 2022.
District Mayor Neil Volzke says he is constantly impressed at the continued effort people put in to the wellbeing of the Stratford community.
The awards are an annual tradition that's spanned over 30 years, inviting the community to share nominations for people that go that extra mile.
"Year on year we have nominations worthy of this acknowledgment, there's no end to good community minded people here in the heart of Taranaki," he says.
"We're pleased to be able to award another Outstanding Citizen Award, the fourth ever presented and to have not one but two Youth Citizen Award recipients this year is awesome," said Mayor Volzke.
The Stratford District Council Citizens Awards formally recognise individuals that give significant amounts of their time and energy to the community.
Friends and family are invited to attend the awards ceremony on Tuesday 2 August 5.30pm at the Function Facility, War Memorial Centre, Stratford.
Full interviews with the recipients will be shown on the night and shared on Council's website and Facebook page post the event. You can read more about our recipients below.
The 2022 Stratford District Council Citizens Award recipients are:
Youth Citizen Awards: Keisya Gunawan, Abbey Sextus
Citizen Awards: Bruce Cleland, Walter Pease, Patsy Commerford and Tony Gordon, Colin Jones (accepted by Colin's family on his behalf).
Outstanding Citizen Award: Ian Benefield
Keisya Gunawan – Youth Citizen Award
Keisya is a queen of extracurricular activities. Her academic track record shows only a small part of her capabilities, but when she says her favourite subject is chemistry because "everything binds together, maths, writing, it's beautiful," you know she's serious about her studies!
An inspiring girl boss, her enthusiastic work ethic doesn't stop when the bell rings at the end of the class. She holds a number of leadership roles at Stratford High School, including Chairperson of the Student Council, a committee she's been involved in for the majority of her secondary school life. Keisya tells us this role covers everything from fundraising and spreading awareness of causes to event organisation.
She carries these skills over to the Stratford District Youth Council which she's been a member of since 2018, currently holding the co-chair position. Her interests in local politics doesn't stop at the Youth Council, she's landed the role of Youth Advisor to the Whanganui electorate Youth MP Ebony Kalin. Together with Ebony and another Youth Advisor she's tackling issues important to young people across the electorate, such as improving access to academic and employment opportunities for young people.
When we caught up with Keisya she was about to head off to the New Zealand Model United Nations, a four day conference providing attendees with the chance to experience life as a diplomat. The event includes engaging problem-solving workshops, stimulated committee sessions and opportunities to debate important topics relevant across the globe.
Keisya doesn't shy away from big global issues. She's coordinated local activity for Rise for Lives, which is a movement of young people from across New Zealand seeking to promote worldwide peace. As part of this Keisya successfully led an educational and fundraising event at Stratford High School for Ukraine.
She was also involved in the 2021 Aotearoa Youth Declaration, which gave her the opportunity to work with rangatahi from across the country to research, debate, and look to solve key issues facing Aotearoa New Zealand.
It's safe to say Keisya will have a bright future ahead of her no matter what she decides to do. In her last year of secondary school she's considering a double degree in science and law next year, but is leaving her mind open so she "can figure it out along the way", she says.
We'll certainly be keeping an eye on Keisya's future achievements. Thank you for always leading by example and representing our district with your best intentions Keisya. Congratulations!
Abbey Sextus – Youth Citizen Award
Abbey's in her last year of secondary school at Stratford High School and already boasts a long list of achievements across academic, sporting and voluntary activities. When we asked for her reaction to being nominated she said, "Over the moon. I never thought I'd receive something like this, I just like helping and giving my time."
Growing up in Toko Abbey says she was brought up around water and learnt to swim at a young age, which is obvious in her successful swimming attributes. Abbey is part of the Flyers Swim Squad, has represented Stratford High School at the NZ Secondary School Swimming, has won gold in the 200 metre butterfly while representing Taranaki at the Division 2 Swimming Championships, and participated in the Flannagan Cup open water swimming competition.
Swimming isn't her only sporting strength, she's been an active netballer through school as well as in spring and summer league competitions, and doesn't shy away from trying out other sports as part of school competitions. It's not just on the court or in the pool that she shows up for her community. Abbey volunteers her time helping out across sports by coaching Toko touch rugby and basketball teams, umpiring netball and sitting on committees like the School Sports Council and TSSA student leadership group. Abbey says she loves coaching the Toko kids, she sees it as a way to give back to the place she grew up.
Abbey's desire to help others doesn't stop in the sporting arena, she's consistently putting her hand up to volunteer for various fundraisers, school events and community events like the A&P Show. Volunteering and community service is not new to the Sextus family, with Abbey's grandfather John receiving a citizens award back in 1995. This was news to Abbey when we told her, clearly doing good things for others must be a natural characteristic of her family.
One of Abbey's most notable achievements has been her appointment to Head Girl at Stratford High School for 2022. She says it's been a change and challenge, especially with COVID-19, but she's taken everything in her stride, telling us, "you only get what you put in, it's on you at the end of the day."
Her nominators say she is a true advocate for the school's HEART values (Honest, Excel, Aroha, Respect, Tolerance), and we couldn't agree more. Her advice to next year's leaders was "be yourself", and when asked what she's looking to do after school, her answer didn't come as a surprise to us. "For a long time I've known I want to help people, so I'm likely to study nursing," says Abbey.
It's pretty obvious to us that Abbey is a real role model among her peers and for other young people in our community. We wish her well with everything she pursues going forward. Congratulations!
Bruce Cleland – Citizen Award
Bruce is another recipient who hails from Toko. He went on to do his secondary school at Stratford High School then decided to do the big OE to Australia with his future wife before returning to start a family. We're grateful he didn't stick around in Australia forever because Bruce has been at the centre of three incredible pieces of community service across tennis, volleyball and the TET Multi-Sport Stadium.
Bruce also isn't the first in his family to receive a Citizen Award, with his dad Neville being acknowledged with one in 2016, so his do good attitude runs in the family. "I was surrounded by parents and grandparents that were volunteers," says Bruce. "Second nature, monkey see, monkey do!"
Bruce Cleland is a name well renowned in local tennis circles, he's been a member of the Toko Tennis Club (1971-1981) and treasurer for two years with them, member of the Douglas Tennis Club for a couple of years after that (1985-1987), a Stratford Tennis Club members since 1988 and has held the role of president for this club for the last 26 years! It makes sense then, that Bruce was acknowledged as a Life Member for the Stratford Tennis Club in recent years. As president Bruce tells us he fits in to what ever needs to be done. A hands-on member Bruce is seen helping with anything from maintenance to sponsorship efforts, "anything to get kids into the sport," he says.
Bruce has been coaching kids at tennis for 10 years and doesn't look to be stopping anytime soon. He was also instrumental in fundraising the money needed to upgrade four courts to Astro turf under lights. "In my opinion they're the best Astro courts in Taranaki," he quips. "We're very lucky to have had the support of local funders."
Further afield Bruce has been involved in Taranaki regional tennis, a member of the Taranaki Tennis Association since 1989 and made a life member in 2021. He was also president for 4 years. He's been a selector and manager for Taranaki representative teams for 6 years, a delegate on the Central Districts Tennis Board from 1994 to 2003 and chairperson for 5 of those. In 2014 he was recognised as Sport Taranaki and Tennis Central Volunteer of the Year.
A walking example of community service longevity, his commitments don't stop there. He can add President of the Stratford Volleyball Club (2009-2014) and Volleyball Taranaki committee member (2015-2020) to his accolades. Another sport Bruce is passionate about and still an active player of. His son is now the president of the local club, and Bruce tells us one of the biggest rewards is attending tournaments around the north island and being told by other teams that they love coming to our Stratford venue. The TET Multi-Sport Stadium is where volleyball is played and it's like a home away from home for Bruce. He's been involved with the facility right from the beginning, playing a key role in the $2.8million development from the early 90s. "It started with a conversation with the netball crew in 1991 about adding a second storey and it grew from that," he says.
Building the venue hasn't been his only involvement. He's been chairperson of the Stratford Combined Sports Society for 21 years, and acknowledged as a life member. That's three life memberships if you're counting.
And to add a bit of variety to his voluntary efforts, many people might not be aware that Bruce was also a member of the Taranaki Monitor Farm Committee for 8 years, which was a group of farmers who were keen on making improvements to their farming practices.
To quote Bruce's nomination form, he is 'a local champion, he does everything with a positive attitude, a sense of humour – and a beer from the TET!'. Bruce tells us "it's enjoyable, and everything you do in life should be enjoyable – plus I have an understanding wife!"
Patsy Commerford and Tony (Baz) Gordon – Citizen Award
It's impossible to count up the number of volunteering hours this dynamic duo has contributed to our community. Their humble natures and attempt at staying under the radar was summarised by Patsy who said, "we were shocked (at finding out about the award), we don't think we do anything spectacular."
Far more than spectacular, Patsy and Tony are both instrumental in keeping the magic of theatre alive in our district. Both members of Stratford on Stage for many many years (too many to add up), they've spent 100s of hours maintaining and renovating 'The Castle' on Regan Street, improving it for smaller productions. Patsy is the costume expert, running the wardrobe for all Stratford on Stage shows, but beyond that supports community members needing an outfit for their next fancy dress event. She's even known to whip one up on her sewing machine if the right fit can't be found in the wardrobe. Tony is never far away from his tools, often building clothing racks to hang the collection, and is the driving force behind building sets for productions at both the Castle and the TET King's Theatre. When asked if anything has ever gone wrong with the set during a performance, Tony laughed, "we're not paid for failures"
As active members of the King's Theatre Trust for the past decade plus, they don't just serve on the committee, they're in amongst the action. Patsy is part of the amazing usher crew, and plays a part in coordinating cleaning of the theatre as well as stocking the theatre shop. Tony is often found, with hammer in hand, fixing or maintaining something – no project daunts him. Both have been a vital part of the theatre facelift in recent months. When walking around the Theatre, you'll be hard-pressed to find something that Tony hasn't built and Patsy will happily give you an in-depth tour of every nook and cranny. Their love and attention to this community asset is something the whole community should be proud of. "It's iconic, unique. It's a challenge, but it's worth looking after," they tell us.
While the theatre might be their home away from home, it's not their only passion. In the summer months you'll find them both down at the Stratford Cricket Club, both being involved in the club for 20 years or more. We don't think Tony knows how to rest, he's constantly keeping the cricket ground up to scratch – and will do anything to ensure the pitch is just right for his home team. Patsy runs the after match and special events and we're told people come for her famous burgers. Their sons have both been keen cricketers from a young age and Patsy and Tony have been their number one supporters. Patsy says it's a family thing, they love it and they've even opened their home to international players while they play for the local club.
Patsy and Tony's skills and attributes complement each other's so well, they both "roll up their sleeves and get on with it" so it's easy to see they are both an asset to our community. We're excited to celebrate them together with a 2022 Citizen Award each. Thank you both for your dedication to our community.
Walter Pease – Citizen Award
Walter has been described as the "backbone of the Whangamomona community, a quiet humble and modest man of many talents." It's not hard to see why that is when we dive into his contributions to the small community.
Living in the eastern districts for most of his life, Walter started school at Huiakama Primary then went on to New Plymouth Boys High School. After school he left Taranaki but always seemed to find a way home. Alongside farming, he is a contractor who helps out other local farmers with his 'jack of all trade' services.
His kids went through Marco School which found him serving time on the Board of Trustees, fundraising events, working bees and recently stepping back into the role of Chairperson on the Board, despite his children no longer being at the school. "It's just something you do in a small district," he tells us. "We all try to do our bit."
He's a key player on the Whangamomona Pig Hunt committee, ensuring events run smoothly, as well as the Whangamomona Dog Trials, helping out on the course, supplying equipment and more recently giving it a go with his own dogs. Local event fundraisers seem to be his forte, known for putting many hours into the annual Whangamomona Bike Ride which is a massive event attended by participants from all over the country. It's the fundraising aspect for the community that keeps him involved. As a member of the Whangamomona Hall Committee and the Whangamomona Domain Committee he is totally committed to the small community.
Always seeking ways to improve the experience of the village, Walter was an initiator of the children's playground and more recently the mini-putt course. "We always saw that area as being a bit of a wasted space so wanted to tidy it up and enhance the village. We'd love to make the mini-putt larger one day," he says. The Mayor thinks it's about the right length considering he couldn't get past the NZ Post hole. Walter said it's handy being across from the pub, can always go top up a drink if you get thirsty trying to navigate the course. The course is unique and celebrates the rural and rustic elements of the district that we all love. Definitely worth visiting if you haven't already!
Walking around the village you'll easily find Walter's handywork, as he has a habit of making wooden additions to the district, from the dog trial club signage to features of the playground, mini-putt course and the log that Athol the Bull is pulling. All constructed and provided by Walter out of love for his community.
We can't not mention his support with the Republic Day celebrations, supplying manpower, gear, donating items and slabs of native wood for auctions. His chainsaw skills are legendary and will often be seen showcasing these talents at the celebrations. It keeps him occupied on the day and away from any other jobs he laughs.
He loves to see locals succeed and to help with that has provided the venue and sheep for a shearing school hosted on his farm. He reassures us that someone else is doing the teaching, he doesn't think his own shearing skills would be up to scratch, or is this his humble nature coming out to play?
You can't be an integral part of the Whangamomona community without having some form of involvement in the 'Men in Black' Whangamomona's renowned rugby team. Walter started playing for the team when he was 18 years old, so 30 odd years, but he thinks he might have gotten away with hanging up his boots for good having not pulled them on for a few years now. He's looking forward to the 2022 Dean Cup result and seeing his own sons join the team when they're ready.
Originally thinking he might have been in trouble when he received a letter from Council, he was surprised by the nomination, and was quick to tell us that "there's plenty of people out here that do as much as me. It's the people that make a place."
However, it's clear to us that Walter is the 'go to guy' for many things and a real advocate for the Republic. We're pleased to be able to acknowledge his efforts with a 2022 Citizen Award. We don't doubt that Walter's good deeds will stop here. Thank you Walter for everything you do!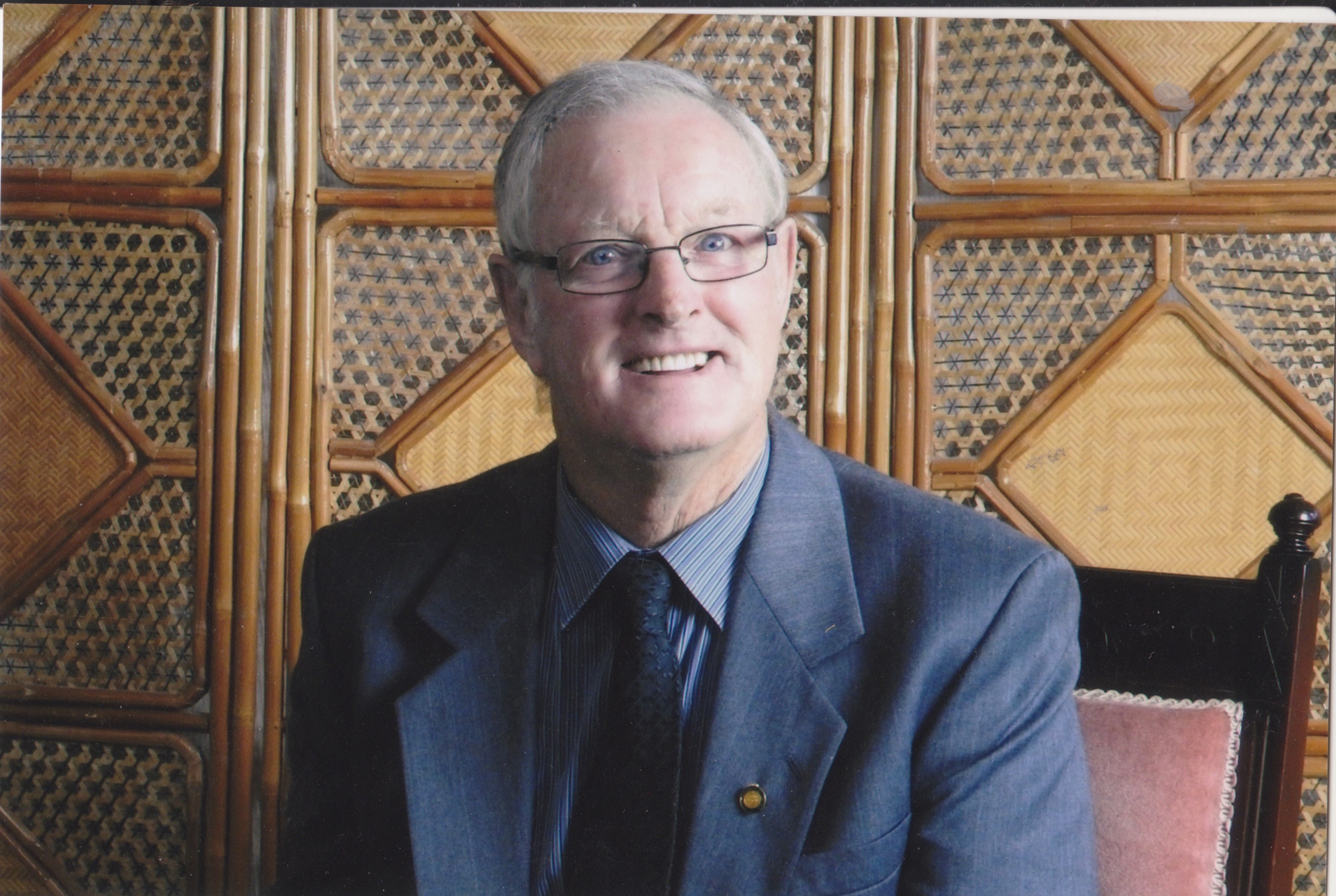 Colin Jones –Citizen Award (accepted by Colin's family on his behalf)
Sadly Colin is unable to join us at our celebrations this year, having recently passed away, only a few days after receiving the letter letting him know of his nomination. Our thoughts are with Colin and his loved ones at this difficult time. Colin's family will be accepting the award on his behalf.
Throughout his life, Colin has been an active member of his community and his contribution has spanned a number of sporting codes as well as community services.
While farming in Toko, Colin was a member of the Toko Domain Board from 1978 to 2004, Toko Hall Committee from 1966 to 1980 and chair for 6 of those. He was elected to the Toko School Committee in 1975, chair for 4 years and an integral part of the organising committee for the last two Jubilee celebrations.
His commitment to farming is evident in his role with the Young Farmers Club from 1955 to 1972, and through representing Stratford on the original veterinary services committee, which was set up by members of the Stratford, Cardiff and Midhirst dairy companies. Colin was chair of this group when the dairy companies amalgamated and played a key role in leading the group through the changes, until it became the Taranaki Veterinary Centre Ltd
Colin and his wife Trish were also awarded the A.C. Cameron Memorial Award in 1974, being nominated by the Department of Agriculture at the time.
He's been a keen sportsman his entire life. Playing rugby from an early age to senior level, he was a member of the Stratford senior side that won the Taranaki title for three years under Coach Don Carlson.
Switching codes he was also a member of the Douglas Cricket Club from 1956 to 1974, and served on the committee during the 1960s taking the role of chair for 1 of those years.
Colin was also a well-respected equestrian in the pony club, before following his father and uncles into the Harness Racing Club. As part of that club Colin held roles as treasurer, vice president and president. In 2013 was made a life member and acknowledged for his outstanding contribution to the Stratford Trotting Club.
Once retired from rugby, Colin joined the Toko Bowling Club alongside his father, and was a member from 1974 to 1999 when it closed down. During this time, he held various roles including president, treasurer and secretary, and was made a life member in 1998. After Toko, he became an active member of the Stratford Avon Bowling Club, also serving on the committee there.
Outside of sport, Colin was a member of the Toko Fire Brigade in the 90s and was inducted as a Justice of the Peace at the Stratford Court House in 1980. He held the role of Chair for the Stratford Sub branch in 1992. He is the third longest serving member to date, having celebrated 40 years of service in 2020.
During retirement Colin gave countless hours as a volunteer for the Stratford Hospice Shop, starting out in 2016 and only recently stepping down due to ill-health.
Colin's track record of service makes him a deserving recipient of this award and we wish we could celebrate with him.
Ian Benefield – Outstanding Citizen Award
In 2005 Ian was presented with a Citizen Award for his community service, and 17 years later he hasn't seemed to stop giving his time and energy to our community. We're pleased to be able to acknowledge Ian's continued service to Stratford with an Outstanding Citizen Award in 2022.
Ian comes from a farming family, growing up in Mahoe, attending the local Mahoe Primary School at that time and then heading to Stratford High School for his secondary years. The youngest of 3 brothers Ian took over the family farm on Hastings Road, and while he now lives on Climie Road, he still has the Hasting Road farm and is known to help out the sharemilker on the farm when required.
He has always done his best for the community, which was apparent when serving his time on the Mahoe School Board of Trustees. Alongside others he did everything he could to try and keep the school open. "It was the community's wish for the school to carry on," he says. Unfortunately the school did close, but his desire to help the community didn't stop then.
A while a go he answered a call of help at the A&P Showgrounds and never left. He's been a member of the Stratford A&P Association since 2006 and an executive since 2008. His own father was an executive on the Association from 1956 to 1973, so he's followed in those footsteps and become an integral part of the association. Affectionately known as the 'foxterrier of the grounds' Ian is always there working, his many hats include cleaner, caretaker, farm manager, financial overseer, sheep and cattle herdman, Mr fix it! He does it all. If something needs doing, he just gets on and does it. He's also the chair of the Skinner Road Hall which sits on the grounds, and looks after the camping ground aspect of the association.
Ian is also well known in lending a hand through his 30 years of involvement with the Salvation Army. He told us he married a good Christian girl and part of that is helping those less fortunate. Jocelyn, Ian's wife, is heavily involved with the Salvation Army too, and between them they've provide support and care to many in our community. Ian is involved in mentoring through his role with the Salvation Army and he feels rewarded when he sees people grow in their abilities.
"My goal to inspire others. If you can do something purposeful and make a difference to someone or something then it's worth it," he says.
Ian's dedications span several decades, and his passion hasn't faltered. There wouldn't be many people in this community who will not recognise Ian, from working dusk until dawn during the A&P Show weekend to those who have benefitted from his service to the Salvation Army.
In his humble nature, he reminds us it's a team effort, "I do it for the team. And in recognition of Jocelyn. I'm very grateful to family, friends and colleagues too."
We're very grateful for you Ian, and pleased to celebrate your decades of continuous work for our community with an Outstanding Citizen Award in 2022.