Representation Review 2021
After a period of consultation, Council adopted its Final proposal on 26 October 2021.
Any person who made a submission on SDC's Initial Proposal may lodge an appeal against SDC's decision to adopt the Initial Proposal as its Final Proposal. An appeal must relate to the matters raised in that person's submission.
Appeals must be made in writing and must be received by SDC no later than 4.30pm on 30 November 2021.
What is a representation review?

Every three years elections are held for councils.
To make sure we have fair and effective representation at these elections, councils are required by the Local Electoral Act 2001 to review their representation arrangements at least once every six years. The last review was held in 2018.
Why are we holding a representation review now?
In May 2021, Stratford District Council voted to establish a Māori Ward. As part of this decision, we're required to carry out a Representation Review.
This review does not impact the decision of introducing a Māori Ward. This is already final.
What are we reviewing?
Legislatively, there is a process that must be followed, and there are three key things that have to be considered:
identifying communities of interest
effective representation of those communities
fair representation of electors
To achieve this, we must:
Identify our communities of interest
Ensure there is effective representation across those communities of interest
Decide how councillors should be elected eg, by wards, at large, or a mixture of both
Determine whether the current ward system still represents the community effectively or not
Determine ward boundaries
Determine whether there be community boards to represent the communities of interest.
Decision making process
In 2018 you told us:
Stratford district doesn't need community boards.
There are two distinct communities of interest in the district, urban and rural.
Stratford district should retain the two wards, with some suggesting no wards at all.
The number of councillors were about right.
What we've done in 2021:
We've looked at a number of options and tested these against the requirements of the Local Electoral Act, before settling on the option that's presented in this document.
You can view the options considered in the decision report on page 33 of this agenda and the minutes from this discussion will be made available in September.
In developing the options we considered:
the number of councillors we should have (by law we must have a mayor and at least 5 councillors, but no more than 29)
how councillors are elected (by ward, by the whole district or a mixture of both)
how many people would be represented by each councillor
whether our communities of interest would be fairly represented
whether any changes to ward boundaries were needed.
The electoral system (First Past the Post), the establishment of a Māori Ward and the number of members elected in the Māori Ward are outside the scope of this consultation.
What we're proposing
| | Council proposal | Reason |
| --- | --- | --- |
| Communities of Interest | Communities of interest are identified as rural and urban. | Different expectations of levels of service and infrastructure between urban and rural communities. Differences in matters of importance to each of these communities of interest. |
| Community Boards | Do not introduce community boards. | Areas within the rural community have been well represented by Councillors with connections to those areas. Council currently has representatives on a number of local and regional committees, and all elected members are actively involved in the community. |
| Wards and/or 'at large' | Councillors are elected from three wards. Rural, Urban and Māori. No councillors are elected 'at large', only the Mayor. | These wards reflect the communities of interest and provide effective representation of the Māori population of the district. |
| Ward boundaries | Amend the urban ward boundary to include additional residential areas on the eastern and western boundary border (as shown in the map on page 4). | We've been approached by members of the community asking that their residential area be included in the urban boundary. The residential areas included in the proposal affiliate more closely with the urban ward than the rural ward. |
| Number of elected members | That there be 11 councillors plus the mayor. | This provides effective representation to residents and ratepayers while still ensuring accessibility to a large area made up of populated towns and sparsely populated rural areas. |
| Distribution of elected members | The distribution of elected members remains the same for rural (4) and urban (6) in addition to the Māori ward seat (1). | The urban and rural split meets the requirement of fair representation (+/- 10% rule). Each general ward councillor will represent a similar number of people from within their ward. |
Current structure
Councillors
Right now, Stratford District Council has a mayor and 10 councillors.
Wards
Our councillors represent 2 wards.
Currently there are 6 urban councillors and 4 rural councillors.
Ward boundaries
The existing Urban Ward boundary is defined by the blue shaded area in the map below.
The Rural Ward covers the rest of the district, shaded green.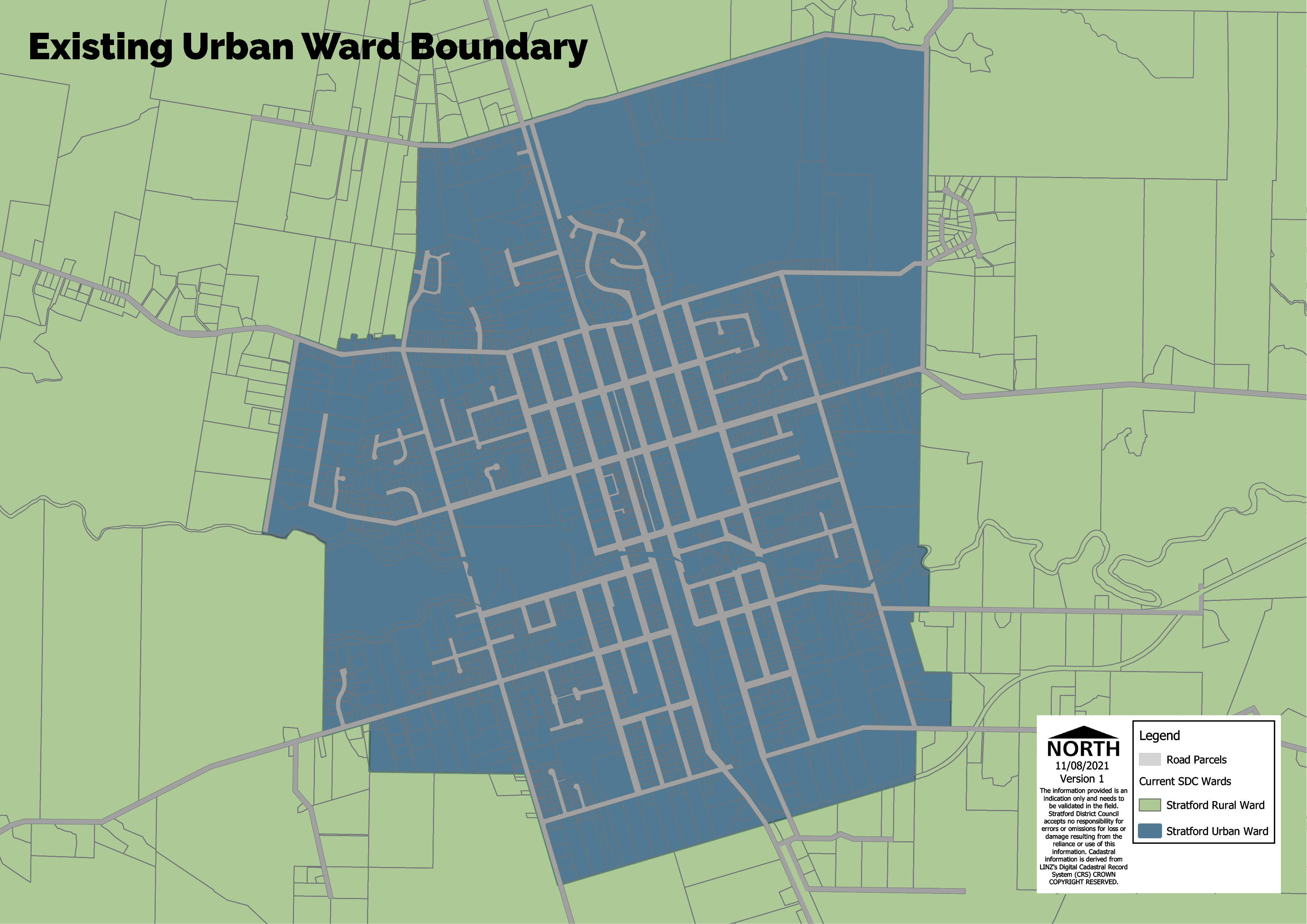 Proposed new structure
Councillors
Stratford District Council has a mayor and 11 councillors.
Wards
Councillors would represent 3 electoral wards covering the population of the district (9,100).
1 Māori Ward Councillor (representing those on the Māori electoral roll, approx. 780)
6 Urban Ward Councillors (each councillor representing approx. 928* people in the Urban Ward)
4 Rural Ward Councillors (each councillor representing approx. 883* people in the Rural Ward)
* This representation falls within the fair representation rules for local government.
Ward boundaries
The new Urban Ward boundary introduces the yellow shaded areas in the map below. (Mercade Estate and a section of properties on Pembroke Road West).
The Rural Ward covers the rest of the district, shaded green.
The Māori ward covers the whole district.
Tell us what you think
Why should I give feedback?
Council's role includes acting as the voice of local people. That voice should represent all people who use and/or contribute to the facilities and services provided by Council.
It must be able to represent and balance differing interests. And because Council's democratic system is funded by rates, it's important the community feels their interests are represented fairly and effectively.
Without your voice Council won't know if this proposal is the right fit for our communities.
How do I have a say?
You can tell us what you think of this proposal by completing a submission form.
Submission forms are available to download here or can be picked up from Council's Service Centre or Stratford Library and Visitor Information Centre.
You can:
Email it to us at submissions@stratford.govt.nz and put "Representation Review 2021" in the subject line
Deliver it to us at Stratford District Council, 63 Miranda Street, Stratford 4332
Post it to us at Stratford District Council, ATTN: Representation Review, PO Box 320, Stratford 4352
Do it online.
Submissions closed on Sunday 19 September 2021.
Key dates
17 August - Submissions Open
19 September - Submissions Close
12 October - Submissions heard by Council
Following the submissions being heard, Council will adopt their final proposal on 26 October 2021.
You then have the opportunity to appeal/object this proposal by 30 November 2021.
If there are no appeals/objections lodged, the final proposal becomes final and must be forwarded to the Local Government Commission by 15 January 2022.
Frequently Asked Questions