Water Trunkmain
We're working on installing a second water trunkmain to Stratford.

This additional trunkmain will increase the resilience of our water supply and avoid town shutdowns in the future, plus accommodate water demand to the north of Stratford.
The new pipe is 450mm wide and once the full project is complete, will span approximately 3.5km in total. The pipe needs to travel across two rivers, with a new pipe bridge being installed over the Pātea River and an existing bridge on the tributary being reinforced.
Constructing a second water main to supply the Stratford township with drinking water has been a long time coming due mainly to lack of funding for this project.
Once the project is completed the resilience of our water network will be significantly enhanced, rectifying issues that have caused problems on multiple occasions in the past.
Who is paying for this?
A grant of $2.4 million from the Provincial Growth Fund has enabled the project to progress with minimal financial impact for our rate payers.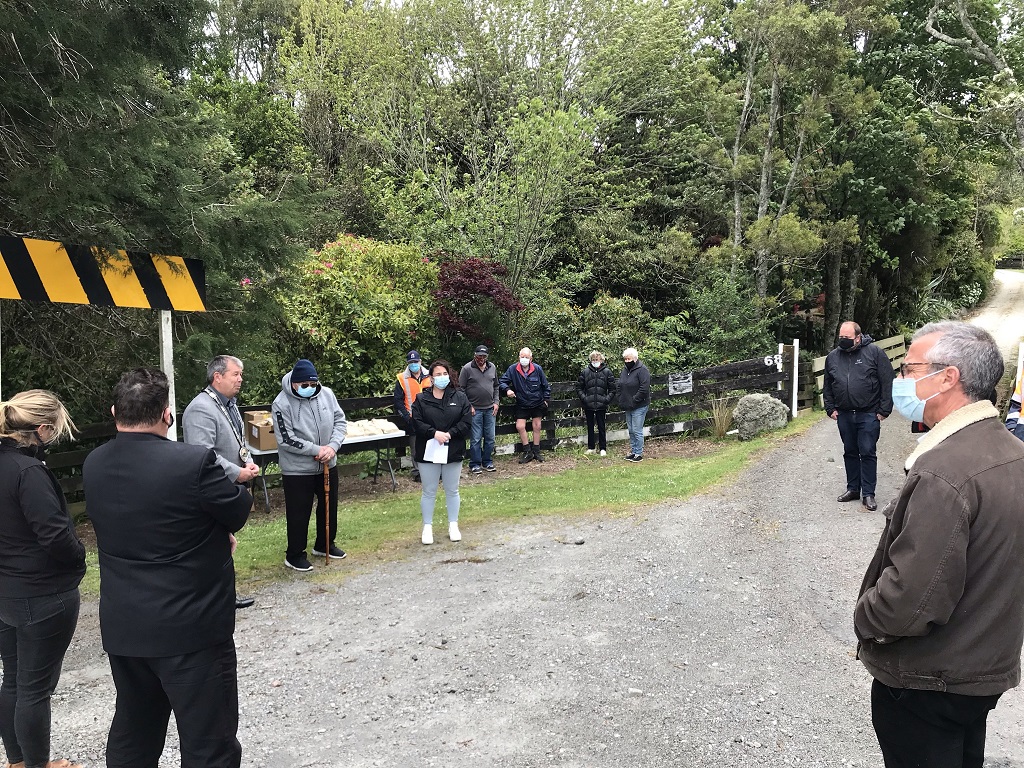 What's happened so far?
In November 2021 Ngāti Ruanui carried out a karakia (blessing) prior to work on the water trunkmain commencing. Pictured is Mayor Volzke, Koro Sandy (Ngāti Ruanui) and Katie Armstrong (Project Manager) with attendees at the blessing.
Stage 1 This involves installing the pipe from the end of Hunt Road to the intersection of Pembroke Road and Brecon Road.
Stage 2 Involves installing the pipe over farmland from the Water Treatment Plant to Hunt Road (pictured to the right).
Local land owners have been very cooperative with this project and we thank them for allowing the project to proceed along the most direct route possible.
Stage 3 includes installing a new pipe bridge over the Pātea River and reinforcing an existing one on the tributary to be able to take the new pipe.
Installing the new pipe bridge was successfully carried out in late August. This involved welding the old bridge to the new one then using rollers to pull the old bridge off the existing supporting structures and replacing it with the new bridge.
The project is due to be completed September 2022, weather depending.
We're really excited about this project as it will benefit residents by increasing the stability of Stratford's water supply.
If you'd like to know more about this project you can contact us on 06 765 6099. We'll provide updates on this page and on our Facebook page as the project progresses.